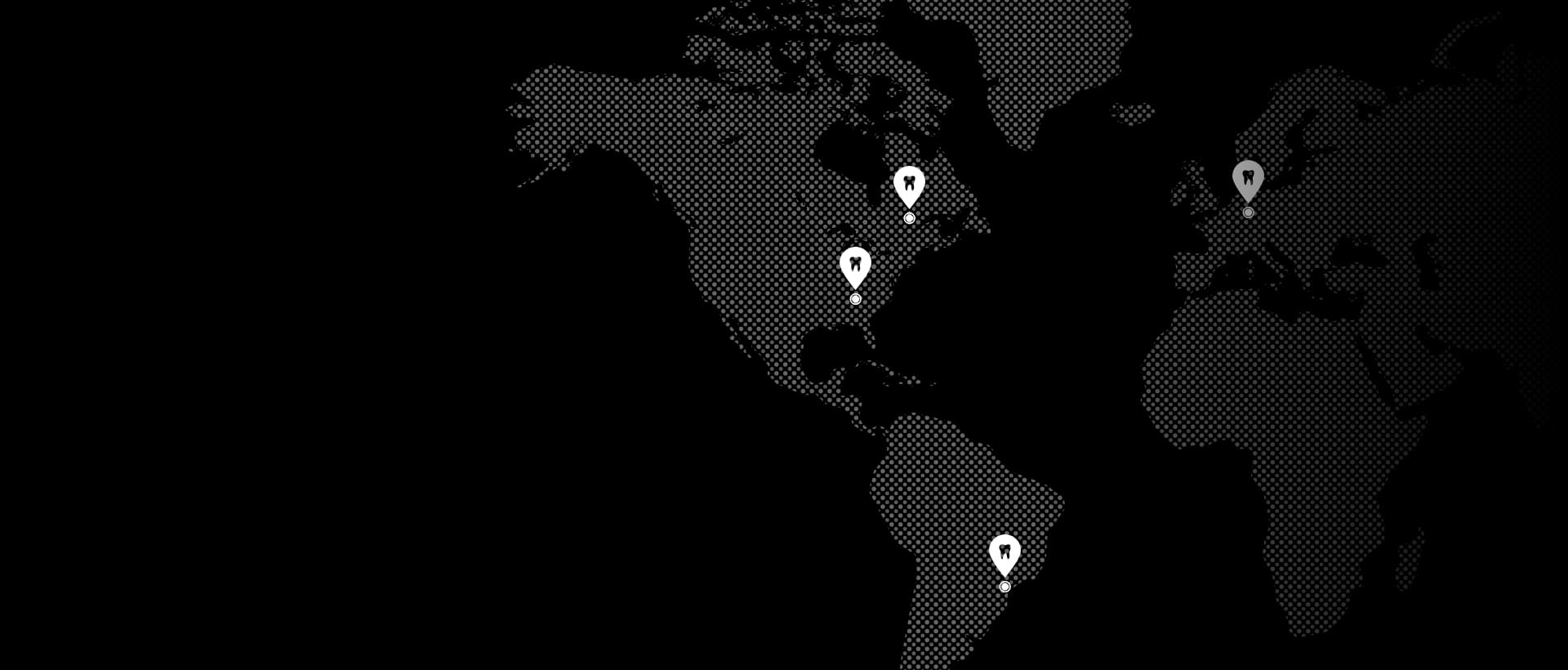 International

Partnerships from dental research

We are constantly improving and innovating to keep up with the latest trends in the dental industry.We are proud to tell you that we work with world-renowned dentists to develop new instruments and sets for you. We know that the right tool makes a big difference in your work experience. That's why we are constantly looking for ways to improve our instruments and sets so that you, as a dentist, have a better experience when doing your work. That's why we work with international and world-renowned dentists to develop new instruments and sets for you.

DISCOVER INNOVATIONS
Dr. Maurice Salama
Pennsylvania

|

Georgia

USA
Dr. Maurice A. Salama completed his undergraduate studies at the State University of New York at Binghamton in 1985, where he was a member of the varsity basketball team and was named to the State of New York All Scholastic Team. Upon graduation, he received his BS in biology. He then pursued graduate studies at the University of Pennsylvania School of Dental Medicine, from which he graduated with a DMD.
learn more
Catalogue
Set for mucogingival plastic surgery
If you're a dentist and want to get your patients smiling again, it's time to take your profession to the next level. The next generation of dentistry is here. Aesthetic surgery is the best way to achieve the beautiful, natural smile your patients have always wanted.
Download
Catalogue
Kern Essential Tunneling Kit
Discover the latest developments in tunnelling techniques with our exclusive set of tunnelling instruments. Developed in collaboration with Dr Ricardo Kern, a leading expert in the field, the set offers outstanding performance and precision for your soft tissue procedures. Learn more about the advantages of our innovative set.
Download
Dr. Ricardo Kern
Paraná

Brasilien
Firmly rooted in the high esthetic demands of Brazilian dentistry, Dr. Ricardo Kern focuses his work on the challenging disciplines of soft tissue design and reconstruction. He has extensive experience in immediate implant placement with temporaries, from single tooth cases to full arch rehabilitations.
LEARN MORE
Prof. Howard Gluckman
Capetown

Southafrica
Prof. Howard Gluckman specializes in advanced reconstruction, dental implants and highly aesthetic cases.
He is at the forefront of dentistry and research, using state-of-the-art techniques. From bone grafts to immediate implants, whatever the treatment need. Prof. Gluckman believes in individualized treatment, ensuring that each patient receives the specific treatment tailored to their unique case.
LEARN MORE
Catalogue
PET-Shield Technique
Immediate implant placement is convenient for patients due to the shortened treatment time and reduced surgical manipulation of the soft tissue. The socket shield technique is a minimally invasive method for primary prevention of tissue loss that aims to preserve the bundle bone above the midbuccal level on the buccal side of the implant. The quality and quantity of the buccal bone lamella are crucial parameters for the success of immediate implant placement in the anterior region.
Download
Catalogue
PET-Shield Technique
The basis of successful bone augmentation is the creation of immobile space, stabilization of the coagulum and sustainable closure of the soft tissues. Thanks to the Umbrella technique, this is easier than ever.
Download
Dr. Dr. Markus Schlee
Forchheim

Germany
PD Dr. Dr. Markus Schlee is the founder of the practice 32 schönezähne and a dentist with a passion. He has the highest regard and respect for the people around him and his patients. Since he describes his profession as a vocation and his team as part of his family, terms such as "work-life balance" are foreign to him. Dr. Schlee is simply in balance - as a private person, dentist, mentor, inventor and scientist.
LEARN MORE
Prof. Dr. G.–H. Nentwig
Frankfurt a. Main

Germany
Since 1991 Director of the Polyclinic for Dental Surgery and Implantology at the Center for Dental, Oral and Maxillofacial Medicine (ZZMK/Carolinum) of the University of Frankfurt/Main. Development of the Ankylos implant system (together with Dr.-Ing. W. Moser). Development of the "Bone Spreading System" and other surgical instruments. Scientific director of postgraduate implantology curricula in Germany and abroad.
LEARN MORE
Catalogue
Surgical Sets
In close cooperation with Prof. Dr. G.-H. Nentwig, University of Frankfurt am Main, USTOMED INSTRUMENTE, Tuttlingen/Germany, has put together two instrument sets specially developed for dental implantology.
Download
Catalogue
Aslan Perio-Probe
This very compact and universally applicable set was specially developed for all requirements of modern implantology.
Download
Dr. Serhat-Aslan
Izmir

Turkey
Dr. Serhat Aslan holds a PhD in Periodontology from Ege University and now works as a specialist in his own clinic. He is a visiting professor at several universities and has contributed to the field of regenerative periodontal surgery. He conducts clinical trials and is a member of several national and international associations in the field of periodontology and implantology.
LEARN MORE
I appreciate the ergonomic and lightweight design of these instruments, which allows precise and controlled handling even during long operations.
Prof. Dr. Adrian Kasaj, DDS, MSC, PhD
I have been working with USTOMED for several years. I can truly say that they are the only company that thrives on innovating high quality surgical instruments. It has been a pleasure to work and innovate with them.
Dr. Howard Gluckman
Ustomed instruments have proven themselves in my clinic for many years. Instruments for precise surgery require a high quality standard in production. The combination of GERMAN QUALITY with reasonable prices is my choice.
Dr. Krzysztof Chmielewski
Ustomed is a company with very lean structures and hierarchies, so that INNOVATIONS can be realized straightforwardly and reliably.
Dr. Dr. Markus Schlee
I have been using the I'Motion set for about a year. It works perfectly with 6/0-7/0 threads. Thanks to the small head and precise locking, I can work gently with it, plus the thread breaks extremely rarely thanks to the limited, smooth shape. It easily fits into tight places.
Dr. David Botond Hangyasi