Events
Hier finden Sie alle anstehenden Veranstaltungen auf welchen wir vertreten sind
IDS 2023
Köln - Messe
14.-18.03.2023

Zukunftsweisende Innovationen, unzählige Neuheiten, spannende Live-Demonstrationen und praktische Hands-on – die einzigartige Leistungsschau für die gesamte Dentalbranche präsentiert die wichtigsten Konzepte und Technologien für Praxen und Labore von heute und morgen.

Humanpräparate-Kurs Universität Bochum
Universität Bochum
31.03.2023

Die Implantologie stellt einen faszinierenden Teilbereich der Medizin mit ständig wachsendem Indikationsspektrum dar. Dieser Kurs bietet Ihnen die Möglichkeit, in einer kleinen Gruppe von maximal 12 Teilnehmern Ihre Kenntnisse aus Theorie und Praxis auszubauen und zu vertiefen. Im direkten Austausch mit unseren erfahrenen Referenten können auch individuelle Fragen besprochen werden. Dieser Kurs bietet Ihnen drei wesentliche Vorteile: Operative Abläufe an humanen Präparaten, typische klinische Situationen und Erhalt der natürlichen Gewebeeigenschaften durch nach Prof. Thiel fixierte Humanpräparate.

Osteology Symposium
Barcelona
27.04.-29.04.2023
In past years, the International Osteology Symposia were considered by many in dentistry to be the most successful and prestigious events held on oral tissue regeneration. This is set to continue with the 2023 Jubilee Edition to celebrate the 20th anniversary of the Osteology Foundation. The very attractive location – Barcelona – and an unparalleled educational programme promise to attract up to 3'000 motivated participants from all over the world: clinicians, educators, and scientists alike from all relevant specialties in the oral surgical fields, and all career levels.
Dentale Themenwelt 2023
Stuttgart Mercedes-Benz Museum
19.05.-20.05.2023
Wenn am 19. Und 20. Mai 2023 die Tore zu unseren drei Ebenen des Mercedes-Benz-Museums aufgehen, so blicken wir auf eine herausragende Premiere zurück. Die Premiere unseres Fortbildungsevents begeisterte nicht nur alle anwesenden Gäste, sondern auch eine Menge Teilnehmer an den Bildschirmen des Livestreamings. Genau dort wollen wir anknüpfen und die Veranstaltung im Mercedes-Benz-Museum auf das nächste Level führen. Nicht nur mit einem einzigartigen Programm, das deutlich erweitert wird, sondern auch durch eine beeindruckende Kulisse im Zentrum der Innovation in Stuttgart.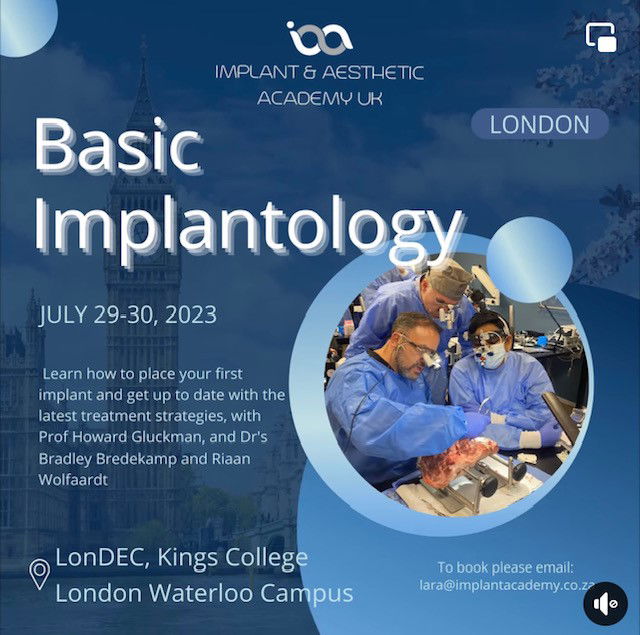 Basic Implantology Course
London
29.06.-30.06.2023

Learn how to place your first implnat and get up to date with the latest treatment strategies, with Prof. Howard Gluckman, and Dr's Bradley Bredekamp and Riaan Wohlfaardt

EAO-Congress
Berlin
28.09.-30.09.2023
The European Association for Osseointegration (EAO) and the German Association of Oral Implantology (DGI) are pleased to announce that their joint meeting will take place in Berlin, Germany, from 28–30 September 2023.This high-level event will feature world-renowned speakers and attract more than five thousand delegates from around the world over three days. Those who can't attend in person will be able to enjoy the scientific programme virtually in a special format. Building on expertise gained creating online programmes over the past three years, this hybrid approach will offer new and exciting perspectives for all participants.
Fachdental Stuttgart
Stuttgart - Messe
13.10.-14.10.2023
Die FACHDENTAL Südwest in Stuttgart ist die wichtigste Fachmesse für Zahnmedizin und Zahntechnik in Südwestdeutschland. Zahlreiche AusstellerInnen präsentieren Produkte und Dienstleistungen aus den Bereichen Zahnmedizin, Zahntechnik und Labor. Die Mischung aus Information, Kontaktpflege und Fortbildung lockt ZahnärztInnen, ZahntechnikerInnen, Zahnmedizinisches Fachpersonal und StudentInnen gleichermaßen auf die Dentalmesse.
ADF Paris
Paris
28.11.-02.12.2023

The ADF Congress is the leading event in the field of dentistry and is the most important European continuing education event. Its particularity is to combine, at the same time and in the same place – the Palais des Congrès de Paris – a scientific program offering nearly a hundred sessions, and an exhibition of international scope, on 12,700m², spread over 4 levels.